What is it?
Your application provides you with different modules to compare content elements, i.e., entities, and map your content database in visually appealing ways.
The list of options available includes the radar, the matrix, the board, the roadmaps, and custom dashboards. While users have certain options to adjust these modules to their needs, e.g., filtering, or adjusting the view, you need to provide a default configuration.
How does it work?
Please note: This feature needs to be activated by ITONICS. Please contact your Customer Innovation Success Manager for further assistance.
First navigate to an entity for which you want to define rating criteria, i.e., via the Settings Wheel > Entity Configuration > Entity Configuration. Click on the edit icon of the respective entity and activate the respective module on the page you landed.
After defining attributes (plus marking them as rating criteria) and defining rating criteria, you will be able to define a default view for the Matrix, Radar, and Board. Once the module has been activated, you will find a new tab for the default module configuration.
In the example below, you see the radar configuration.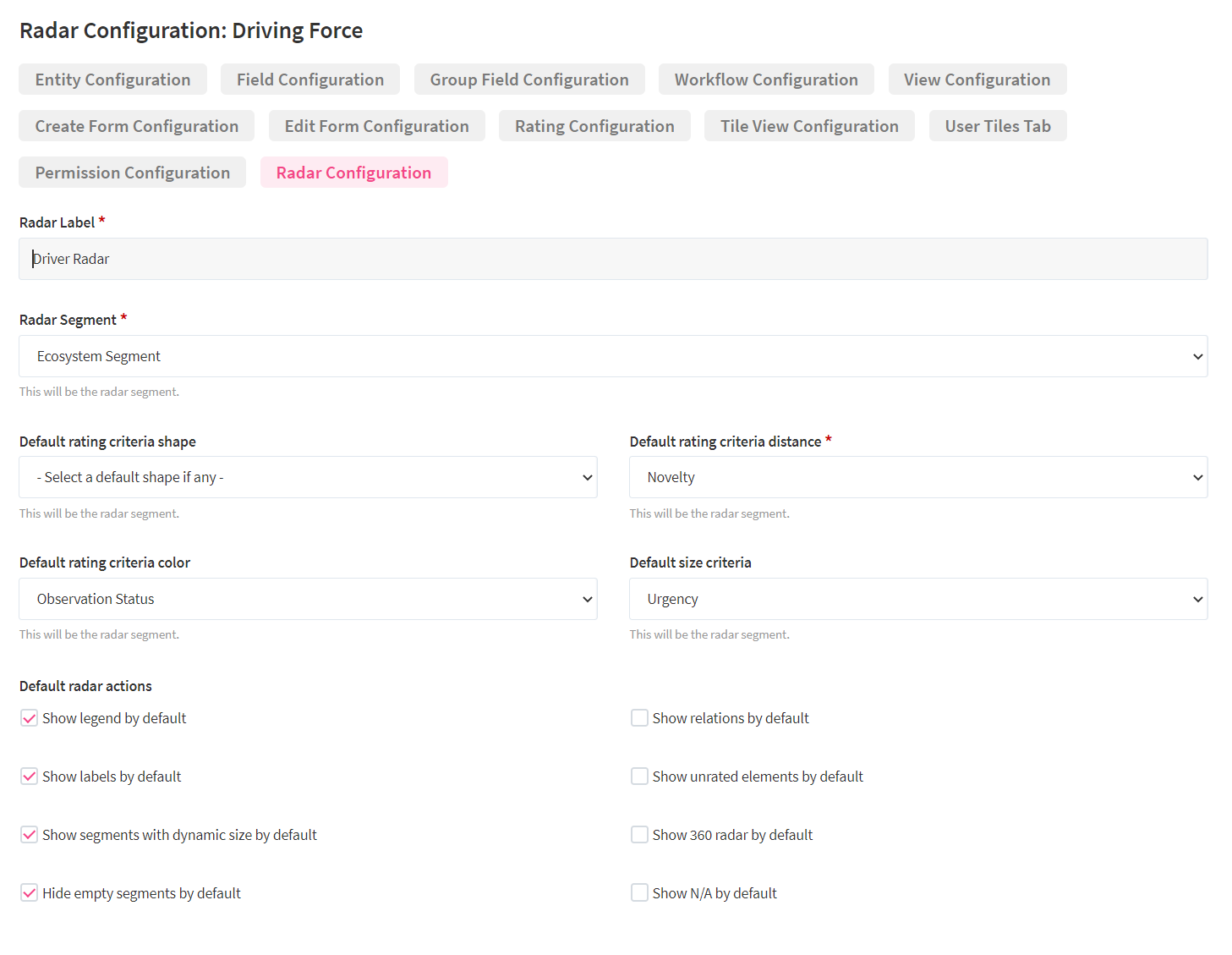 In the tab, you will be requested to give a more specific name to your radar. Particularly for the radar, you are also requested to assign segment fields. In the configuration options below, you will be able to define the default look of this module. You can use your attributes and rating criteria defined and express their meaning by the different visual indicators, e.g., the distance to the radar center, the shape, the color, and the size.
Below the visual indicators, you will find further configuration options for the default radar view.
Please note that a user can change this view later to meet his/her own needs individually.
The same principle also applies to the other modules Matrix and Board. Read more about the module configuration in the articles below: