Who can use this feature?
Only the Application Owner role can use this feature.
What is it?
Create and send out newsletters on the ITONICS system to engage with your users and keep them updated on developments, share interesting insights, and encourage participation.
There are two ways to create newsletters:
Create a new newsletter from scratch

Create a newsletter by selecting content in the Explorer
How does it work?
Create a newsletter from scratch
Go to the

Settings Wheel

>

Newsletter

.

Click on the Add Newsletter button on the Newsletter form page to start filling in the fields. (1)

Begin with selecting your

Recipients that are either single users or user groups within the system. (2

)

Add a

Subject

(shown as the email title). (

3

)

Upload a header image which will appear at the top of your newsletter (4)

Add a

Section Title

(

5

). You can add more than one section by clicking on the

Add Section

button below (

8

).

You can define the content of a section via a Rich Text Field Editor (6

).

Select the content elements that you want to include in your newsletter (

7

).

You can add an

Individual Footer

to your newsletter. (

9

) Otherwise, the general newsletter footer will be used.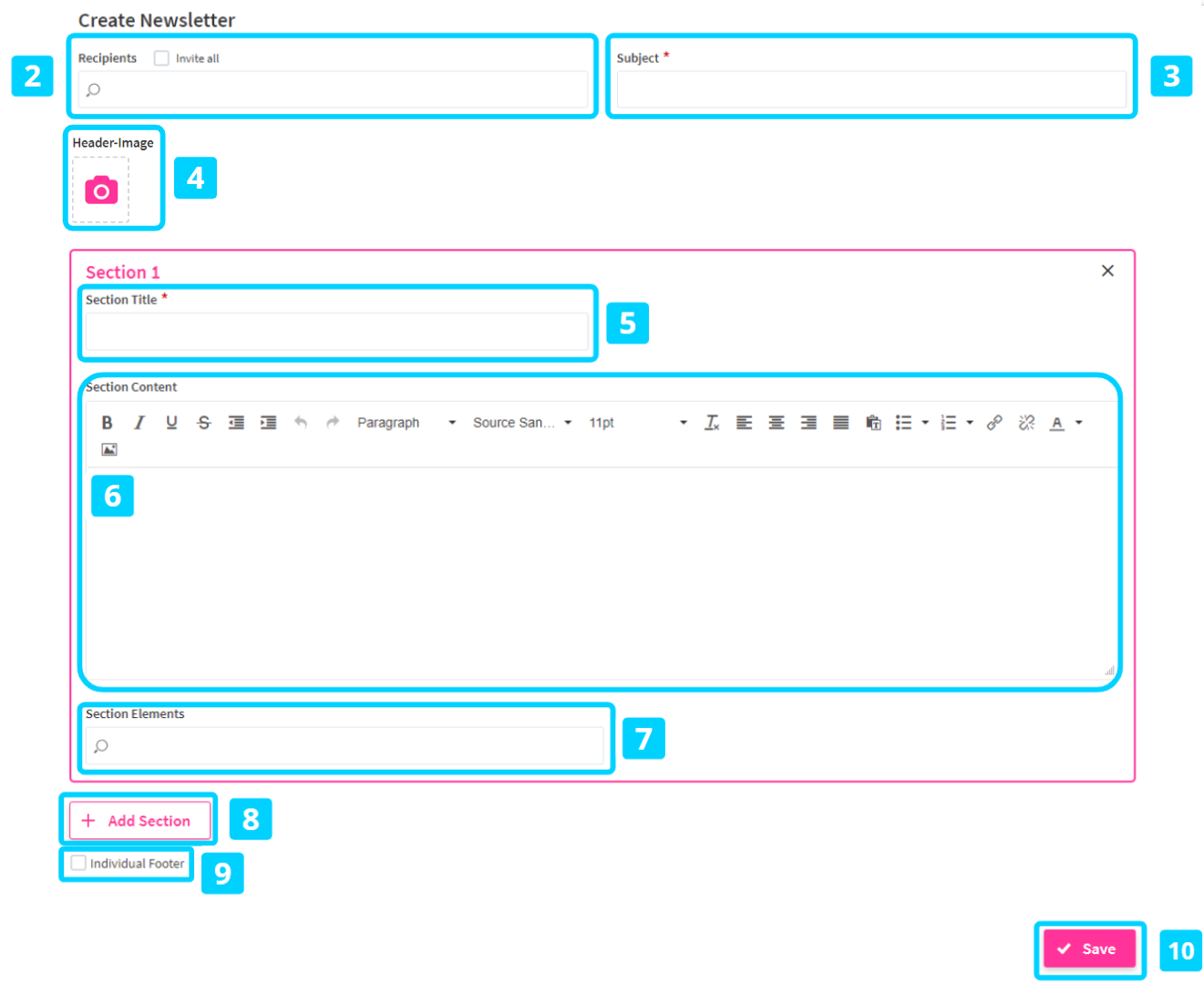 When you are finished with the setup, click Save to save the Newsletter as a draft. (10)
Create a Newsletter from the Explorer
Go to the Explorer and select several content elements. You can select content either from the select option before the content section starts or by clicking into the white space of a content card (11). Note: If you would click on the title, abstract, or image, other actions will be triggered.
Once finished with the selection, click on the Create Newsletter button (12) which will then appear after the selection. Once hit, you will be redirected to the Create Newsletter and can continue as described under 'create a newsletter from scratch'.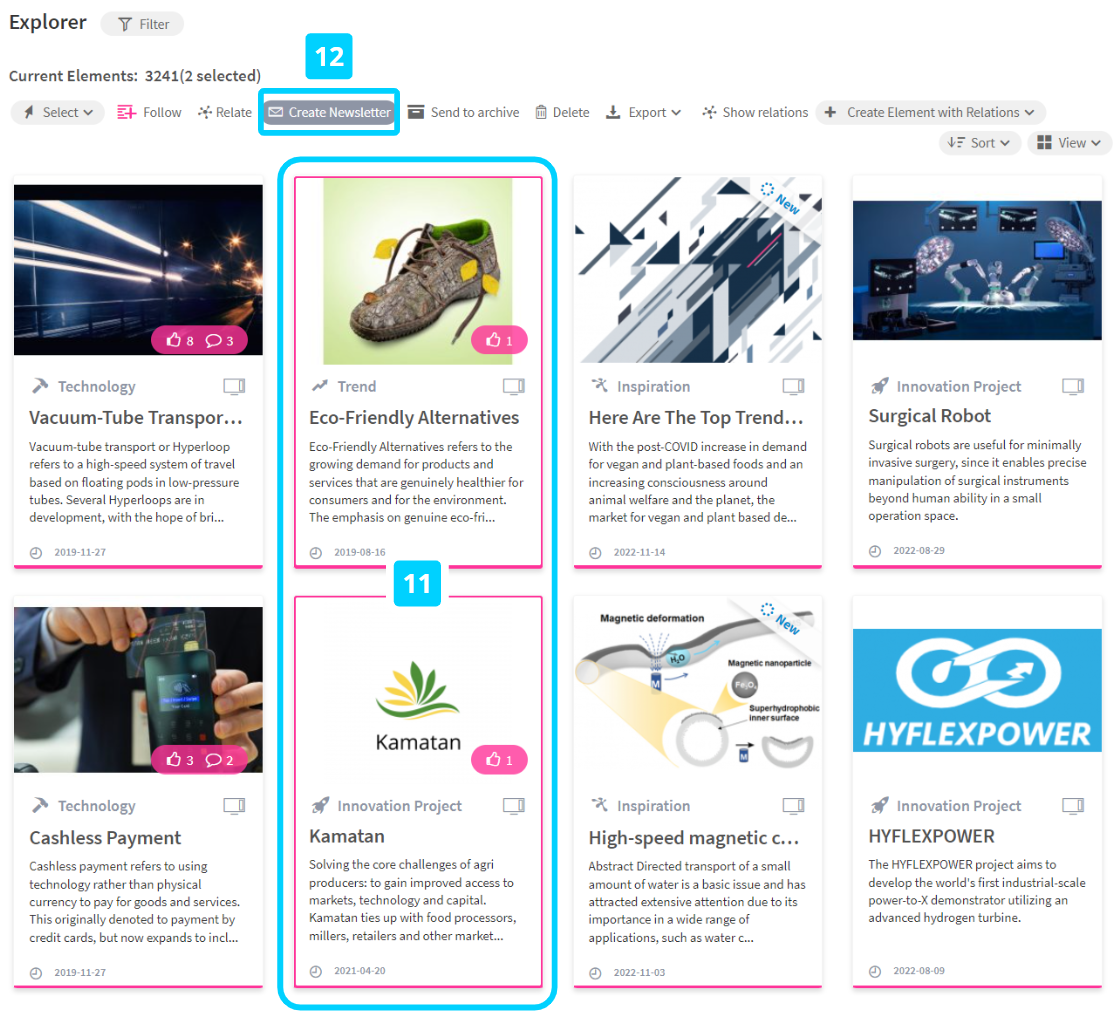 Changing the newsletter footer
If you do not select an individual footer, a general footer will be included in all newsletters.
To change this general footer, please navigate to the Settings Wheel > System Administration > Newsletter Settings. Here, you can add/edit the footer content in the rich text editor field. Click Save.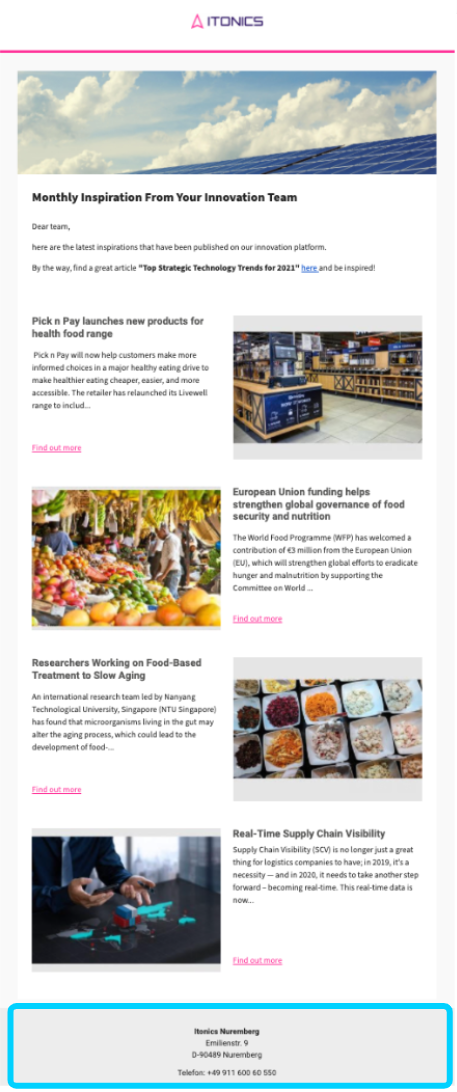 Actions available for newsletters
In the newsletter form, you can perform certain actions by clicking on one of the five icons on the right-hand side: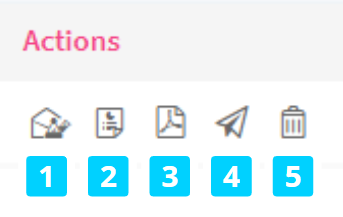 Test the newsletter (send the newsletter to your email address to view it). (1)
Preview the newsletter in a pop-up directly in the application. (2)
Export the newsletter as a PDF. (3)
Send the newsletter. (4)
Delete the newsletter. (5)