What is it?
The Explorer is the heart of the ITONICS application. In the Explorer, you can find all the content that exists throughout the system. This includes published content as well as content that is archived, in draft mode, or under review. It thus serves as the easiest way to find content around specific topics (cf. the article on searching content) or filter criteria.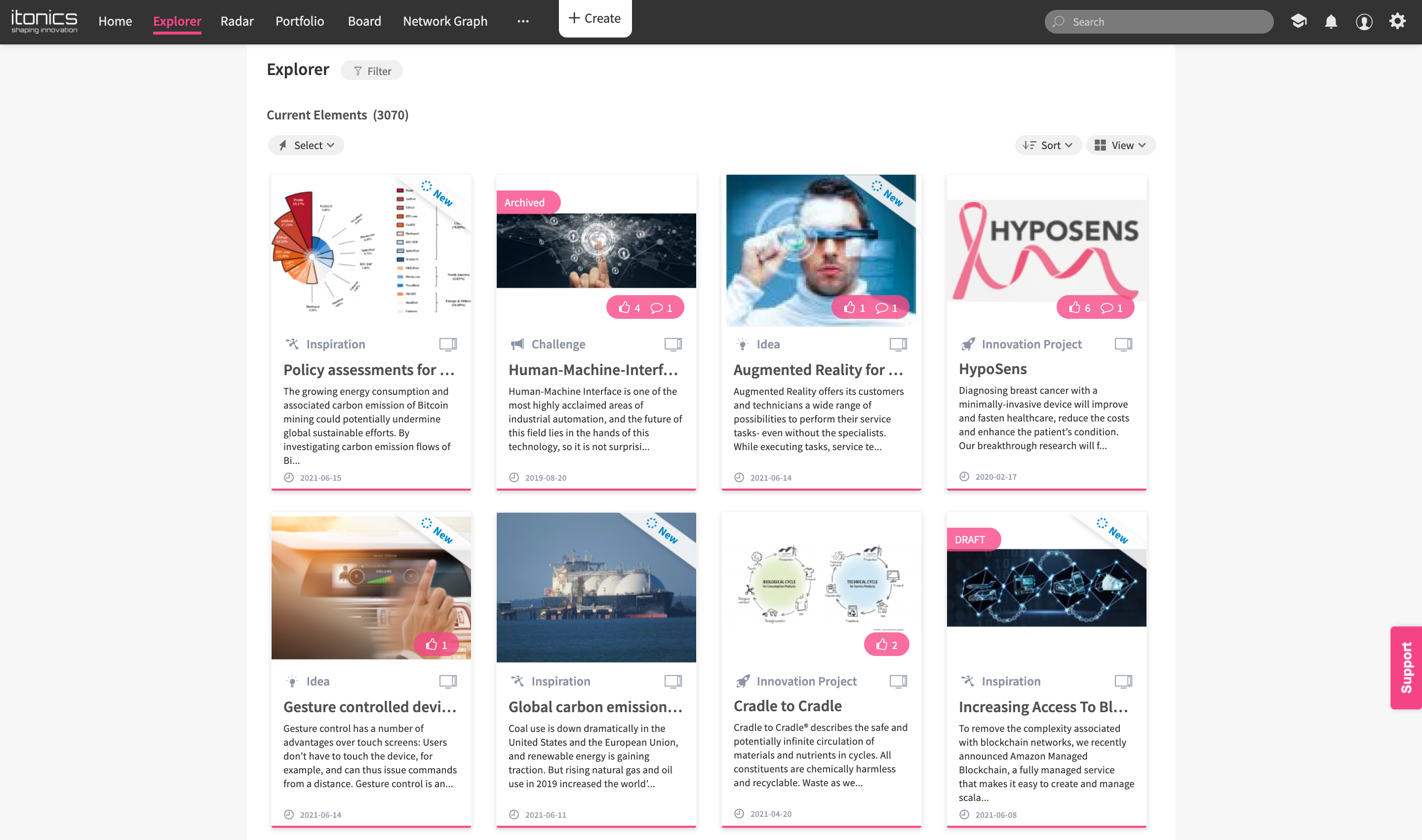 How does it work?
As mentioned the Explorer contains all the content for content categories that you are allowed to see as per your role. This provides you further with the option to find content pieces of interest easily.
The Explorer can be directly accessed from the main navigation menu on top of the application. After clicking, you will see the name Explorer and the Filter menu on top of the Explorer Page.
Below, you will find a display of the number of content elements that are currently displayed. Underneath, you have a selection option from which you can select all content elements at once and, subsequently, perform bulk actions. To the right, you will find options to adjust the display of the content.
To change the layout of how content is displayed, you can choose between two options. You can either display the content in a list view (table view) or display the content by cards (grid view). To adjust the layout, go to the View drop-down and select your preferred view. Please note that the display option chosen will stay until it is reset again.
The Table View shows a slightly different set of information:
Facts:

Title, Entity Type, Created Date, Creator

Action on Hover

: Preview, Open in new Tab, Follow / Unfollow, Rate, Delete
The Grid View displays the elements as small tiles. Every tile consists of the following structure:
Facts

: Title, Profile image, Entity Type, Abstract, Modification Date

Collaboration

: Number of Likes and Comments

Action on Hover

: Like / Unlike, Follow / Unfollow, Rate, Open in new Tab, Edit, Delete


If you want to have a quick view of an element in the Explorer, hover over the selected element card and click the Preview icon, left to the general content category (1). The element preview will pop up at the right side of the screen and will show its relations if you scroll down on the sideview (2).
The preview contains the main information about the element, including its rating. You can also perform certain actions from there if you click on one of the icons below the preview picture:
Open the element in a new tab

Follow the element

Add your rating for this element

Edit the element details

Delete the element