What is it?
Within your organization, many individuals will have access to your (potential) customers. As an organization, you should understand your customers and give them a voice internally, i.e., how they perceive your products and ideas. What do they like? What do they wonder about? What do they dislike?
Understanding your customers and their different angles can be a fruitful direction for your further product and service development. Within your ITONICS Innovation OS, you can collect such feedback and identify patterns of feedback. This should allow you to move from individual feelings to a collective understanding.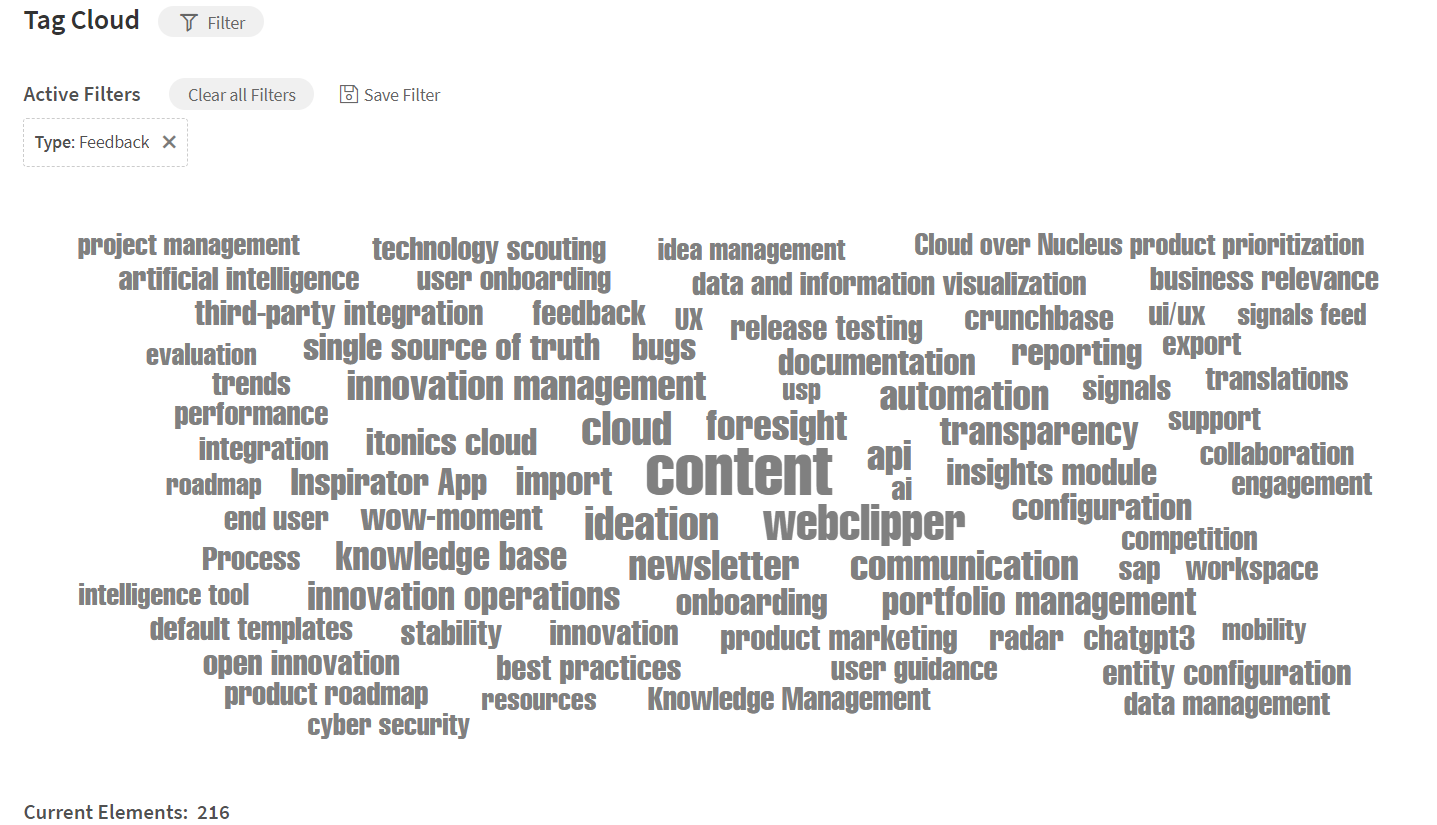 Learn more on:
How does it work?
Creating a feedback entity
To start with, you should first create a template, i.e., a specific entity, by that everyone can submit the feedback they come across. Therefore, navigate to the Settings Wheel > Entity Configuration > Entity Configuration. Use the button to add a new entity. Provide the name and select the modules that you want to activate for this entity. Please note that modules need to be activated by your Customer Innovation Success Manager first.
Usually, the customer entity will not require the activation of many modules. At first, it is about having the option to capture feedback systematically. We recommend using the tag cloud that is activated by default and you might only need to check the entity-specific permissions for the tag cloud.
Typical fields that should be included are:
Title, Image, Abstract, Further information, Tags
Resolution (Rich text field, optional, to add potential steps for resolution)
Tonality (Dropdown with the following values: positive, neutral, negative, wondering)
Submitter type (Dropdown with the following values: customer, prospect, internal)
Feedback status (Dropdown with the following values: submitted, categorized, task assigned, tackled)
Level of Feedback (Dropdown with the following values: specific, general)
Product Line (Dropdown with values that represent your product/service line)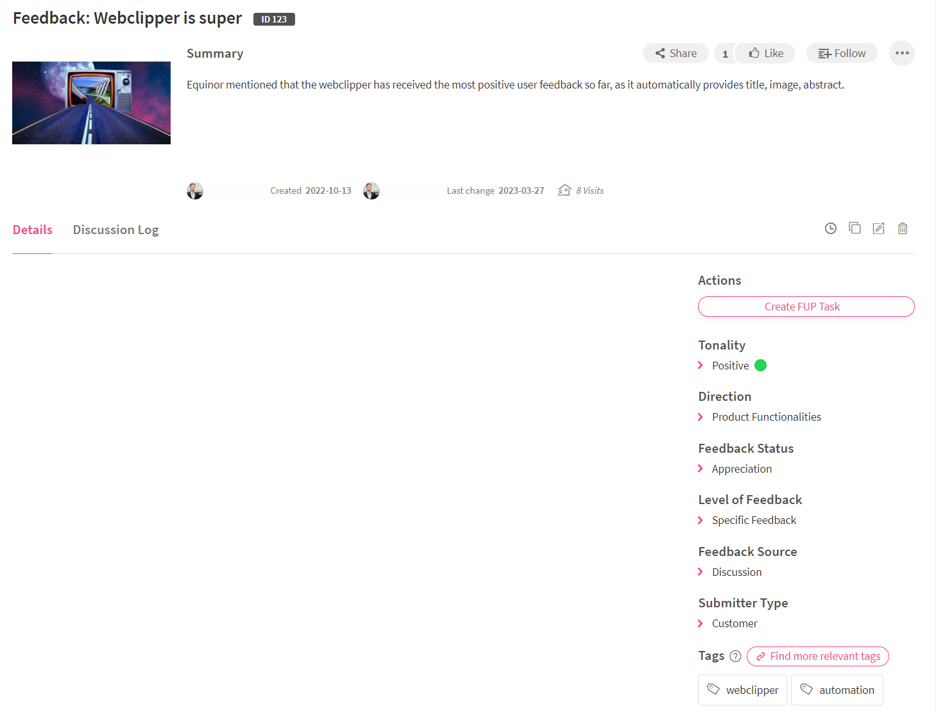 Using the tag cloud to identify feedback patterns
To make your feedback collection process really powerful, you should advise the submitters to add tags to categorize the incoming feedback specifically. Tags are keywords that can be added without any restrictions by everyone with the right to create or edit content. The tagging is not restricted to a list of options but can be added individually. They are, thus, different from a dropdown categorization with pre-defined values from which you can pick and choose. Tags allow the addition of a specific categorization. Ideally, this enables you to identify new patterns.
All tags and their frequency are reflected in the Tag Cloud which you can find from the main navigation bar. The difference in the sizes of tags indicates that certain tags (appearing bigger) are used more often in the application than others (appearing smaller).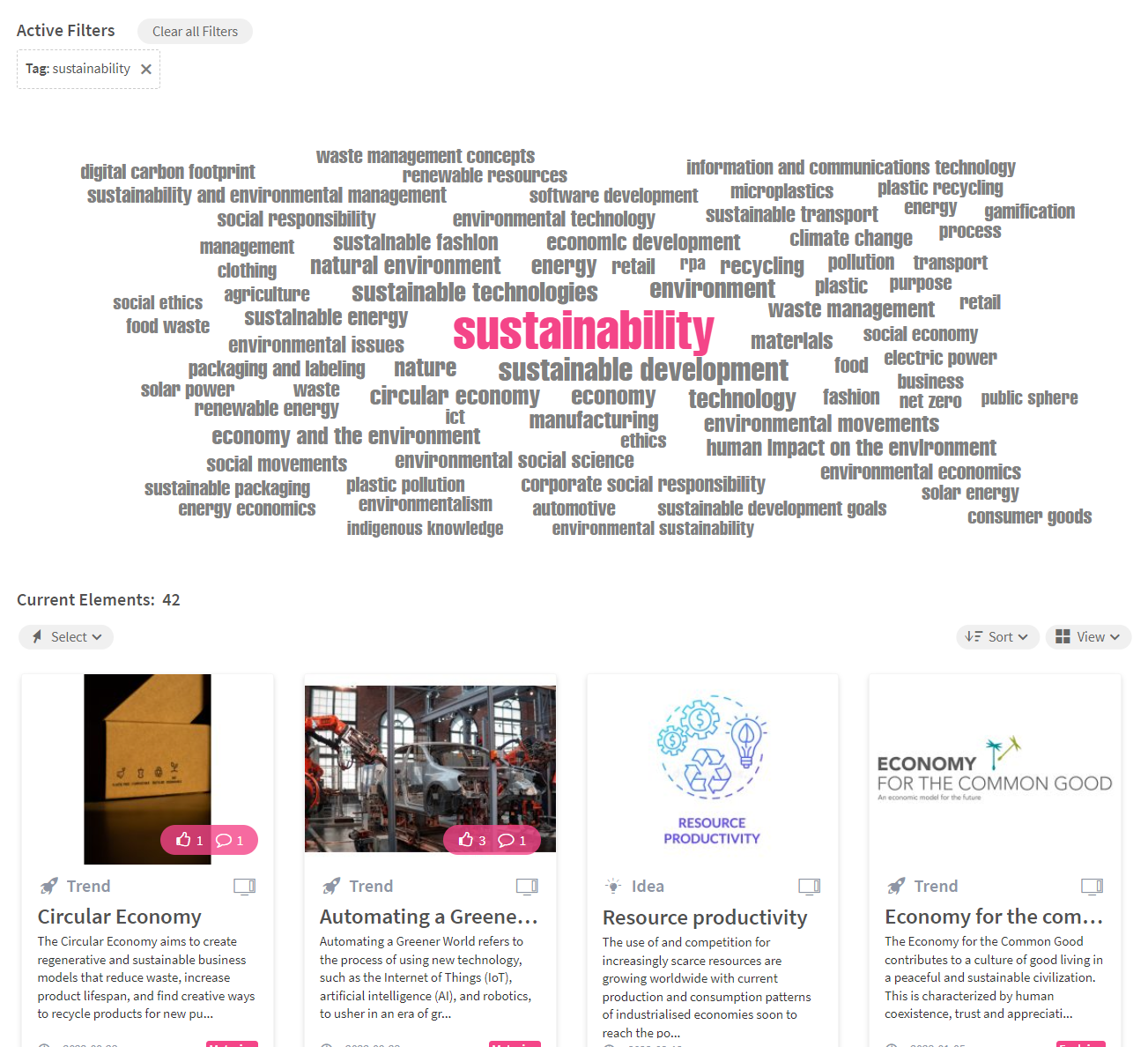 This way, you can identify easily similar topics that have been added as tags to the feedback content elements. By clicking on a tag in the tag cloud, you will also see below the tag cloud all content elements where the respective tag is used.
By applying further filters, you can easily identify positive or negative feedback if this is a selection option on your feedback entity.
If you have identified common patterns of feedback, you can then use this general feedback as an intake for an idea campaign or for linking it with a partner organization, or any ongoing project that tries to address this feedback already.