In order to enrich the data on your ITONICS platform with (existing) ratings or ratings you have collected from an external expert group that has no access to the platform, you may want to use the dynamic upload interface that adapts to your specific entity configuration and rating configuration. Navigate to Settings > Export / Import Data > Rating Import and Select an element type.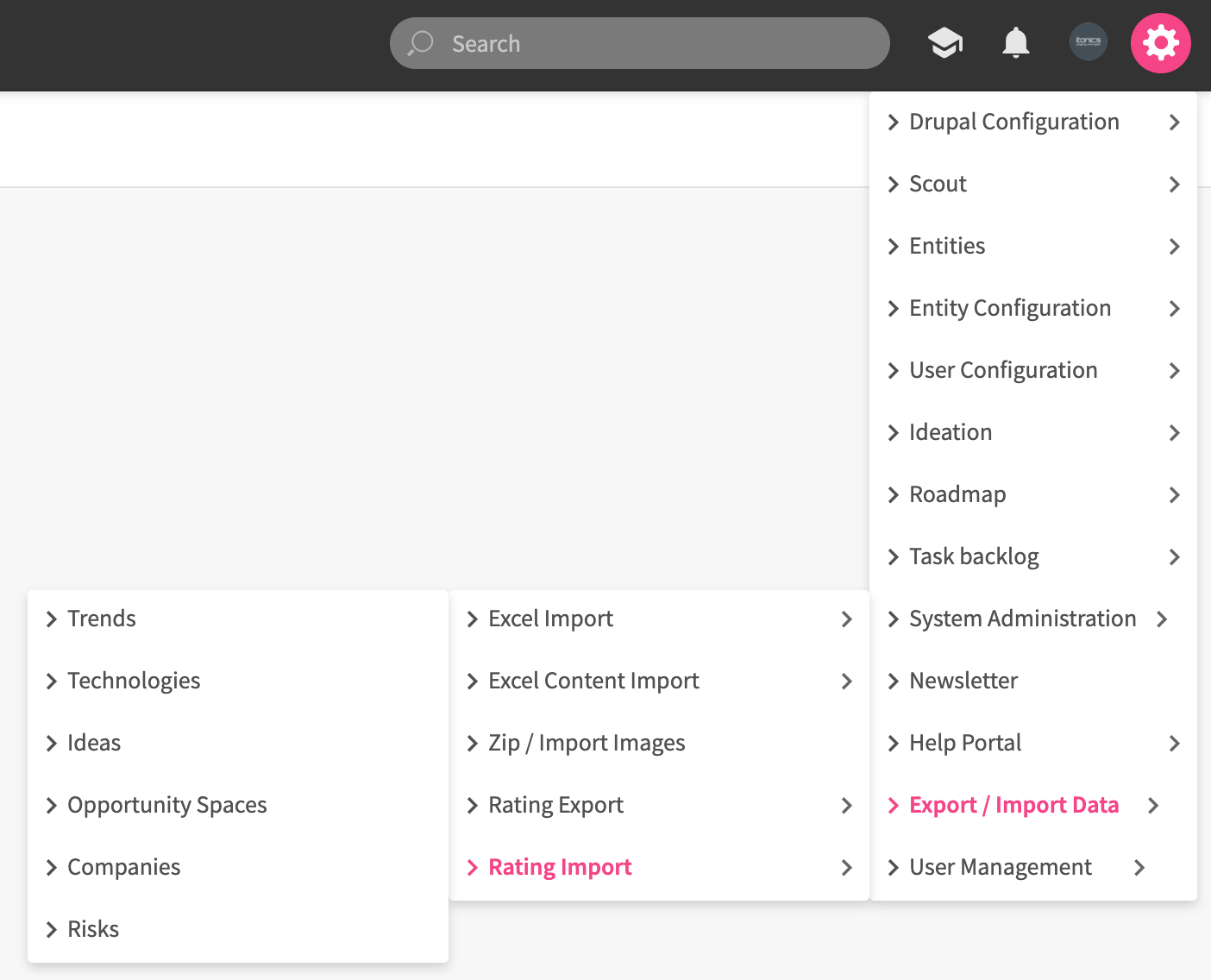 Download the "Excel Import Template" by clicking on the "Generate Rating Import Template" button on the right-hand side.
The generated file consists of the following columns:
ID

: The ID column expects a positive integer value but is not considered a unique identifier. ITONICS is looking into solutions for choosing ID as a unique identifier as well during import. For now, the ID column is just for information during export and therefore can be left empty.

Rated by

: The

Rated by

column expects an existing user as a string value. This column is mandatory.

Rated at

: The

Rated at

column expects a valid date format (yyyy-mm-dd) and sets the create date accordingly.

Title

: The

Title

column serves as the unique identifier between rating and the to be rated element. It expects an existing title as a string value. This column is mandatory.

Rating Criteria:

The remaining columns are representing the specific

rating criterias

, that you added to the certain element types in the rating configuration (https://help.itonicsit.de/hc/en-us/articles/360019788079-Rating-configuration). These columns expect strings (f.e. "very low") or integer values (f.e. "3").
When ready, Save the excel file, Click the Choose file button, Select the excel file and Upload it to the platform by clicking the Import Ratings button.

If the import was successful, a confirmation message appears.

If the import identifies errors, warnings, or missing values the import will be cancelled by showing the identified issues.