Who can use this feature?
Only the Application Owner role can use this feature.
Enable the matrix feature
In order to set up your first Matrix for a particular entity (trend, technology, company, or another entity type), go to Settings > Entity Configuration > Entity Configuration. Select the type of entity you want to create your Matrix for, and click the Pen icon to go to the edit section.

On the edit page of an element, scroll down to the Enabled Modules/Features for this Entity section. Enable the Matrix creation for this entity type by selecting the checkbox in the Portfolio tile. Depending on your purchased plan, it can be the only one, or one of a few modules available to you. When ready, scroll down and click the Save button.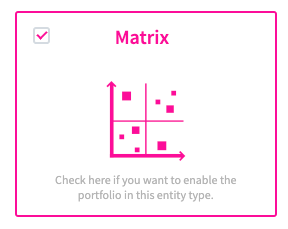 Configure the Matrix feature
Next, go to the Matrix Configuration tab and start configuring your new Matrix.

Define the

Matrix Label

(for example, Company Matrix).

Decide on a

default rating criteria

for the x and y-axis. Check

here

how to configure rating criteria if you haven't done it before.

Decide on

rating criteria color

and

size

.

Optionally define the

default rating criteria shape

.
You can also decide which actions will be shown by default on your Matrix page by selecting the checkbox next to each of them.

When ready, click the Save button.
You can access your new Matrix from the main navigation menu by hovering over the Matrix section. You can see the entities placed on the Matrix according to the rating criteria you defined previously.